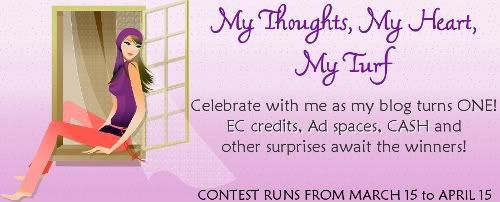 Bambie of My Thoughts, My heart, My Turf is celebrating her birthday and her 1st blog anniversary! Join her month long contest to get a chance to win cash, EC credits, ad spaces and more! Contest runs until April 15.
Her blog sponsors made the contest possible and my
blog, A Woman Remembers, is one of the major contest sponsor.
A Woman Remembers - 1,000 EC credits, 1 month AD space and $5.00
Azumi...Lil Dolly Princess - $5.00
Best Vacation Places - $5.00
Brisbane Hotels - $5.00
Diva Fabulosa - $5.00
From this Side - 3,000 EC credits
Girls Rule! - $5.00
Just About Anything - $5.00
Live for Life - 4,000 EC credits and 2 months AD space
Living Life to the Fullest - $5.00 + 1,000 EC credits
Momma Wannabe - $5.00
My So-Called World - $5.00 + 1 month AD space
Niko's Blog - $5.00
Stalking Minds - $5.00
The Hunger Games Trilogy - 3,000 EC credits
The Mommy Journey - 5,000 EC credits
The Snoring Queen - 5,000 EC credits
Travelin' with Marie - 8"x8", 20-page Photobook ($20.00 value) and two 1 month AD spaces
Wahmaholic - Wordpress or Blogger template based on the winner's choice of theme and color
And here's the list of her secondary sponsors:
Chris Chronicles - 2,000 EC credits
Cornyman's Blog Reviews - 2,000 EC credits
Cornyman's Money Blog - 1,000 EC + 10 x Spikes from CMF Ads worth 1$ (250 visitors)
Earn Money Online with Red - 2 months AD space
Earth Friendly Momma - 1,000 EC credits
Fashion Explorer - 1,000 EC credits
Gene + Experiments - 1 month AD space
Health and Beauty Diva - 1,000 EC credits
Her and History - 1,000 EC credits
Here Anything Goes - 1,000 EC credits
Home Buddies - AD spaces in her PR3, PR2, and PR1 blogs
I Empower Myself - 1 month 125x125 AD space
Inspirational Insights - 2,000 EC credits
Life Can't Wait - 1,000 EC credits
Life of a Filipina Blogger - 1,000 EC credits
Liza's Online Journal - 1,000 EC credits + 1 month 125x125 AD space
Mariuca Wishing on a Falling Star - 1,000 EC credits
Mariuca's Perfume Gallery - 1,000 EC credits
Meow Diaries - 1,000 EC credits
Moms Write Stuff - 1,000 EC credits
My Daily Thoughts and Ramblings - 2 months AD space (winner can opt to have 1 250x125 AD or 2 125x125 AD)
My Journey to Life - 1 month AD space
Pinkville - 1 month 125x125 AD space
Proud Mommy and Wifey - 1,000 EC credits + 1 month 125x125 Ad space
Runaway Blogger - 1,000 EC credits
Samantha's Own - 2,000 EC credits
Simple Pero Rock - 1 month AD space and 2,000 EC credits
Spread the Word - 1 month 125x125 AD space
Tasty Exploration - 1,000 EC credits
Teaching Moments - 1,000 EC credits
The One Minute Guide - 1,000 EC + 10 x Spikes from CMF Ads worth 1$ (250 visitors)
The Pinay Blogger at Home - 1,000 EC credits
Up Now and What's Next - 1 month 125x125 Ad space
Wonderful World of Peachy - 1,000 EC credits + 1 month AD space